YAY for Craft Lightning – Crafts and Projects that can be done in less than 30 minutes!  I am excited to be sharing as part of the the camp theme this fabulous way to create a crafty clean space.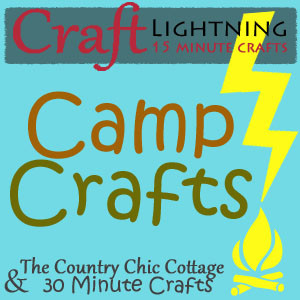 Crafting with kids is OH.SO.Much.FUN!  Some crafts get messy and sticky and could damage a table surface.  Here is a super quick, fun and interactive way to protect your furniture, with a bright rainbow theme…perfect for parties, camps or scouting meetings.
You will need a roll of  brown paper.  This can be found in the hardware store at a very inexpensive price and it lasts forever.  You will also need white Puffy Paint and crayons.
Cover your tables completely then go around and paint two puffy paint clouds in each crafting station.  This is also a great way to divide space and set up supplies.  Be sure to leave a little time for the paint to dry before the kids get to the table.
Add crayons to the table in the colors of the rainbow.  I added some fun Kunin felt under my crayon cups to brighten it up and exaggerate the rainbow theme.  It worked great because felt was part of one of our crafts and it actually got used.  SCORE!  The kids will LOVE finishing the decor of the cover.
When the kids got up from the table to head outdoors for activities and games, I cut their rainbows apart and stapled them to recycled grocery bags.  These were used to hold all of their creations so they could safely get them home to decorate their rooms and add to their fashionable wardrobes.
Happy Creating QUICK and FUN Projects with children – CRAFT LIGHTNING KID STYLE!
Love,
Laura