The autumn season is my favorite one for decorating.  I love making things that are good for Halloween but that also go into November and work through Thanksgiving.  Gourds are those things.  They are so full of personality and pizzazz.  I whipped up this adorable gourd garland today with my trusty Xyron Mega Runner.  It is my Go-To adhesive for paper crafting projects and works like a charm.  This post is sponsored by Xyron but the ideas and opinions are my own.
To make the garland, you will need the following items:
Xyron Mega Runner
Scrapbook Papers in Fall Colors/Patterns
Gourd Patterns (Download FREE Printable)
Google Eyes
Twine
Mini Clothespins
Scissors
Black Marker
Cut out gourds from the patterned shapes (or create your own).  Gourds come in ALL sizes, colors and varieties so get creative.  This is a great time to add stripes, polka dots, extra layers and dimension.  There are so many festive scrapbook papers out there in the world.  I know I can spend an hour in the scrapbook paper aisle at the craft store every time!
Adhere your gourd pieces together with a Xyron Mega Runner.  It works great, even on the tiny pieces.  If you run out, you can always get a refill which makes this product super awesome.  I like to keep a spare refill around at all times.  When I need to put it into my Mega Runner, I just order another one!
Adhere google eyes using the MegaRunner too.  It works great for things that don't carry a lot of weight like googly eyes, gems and embellishments.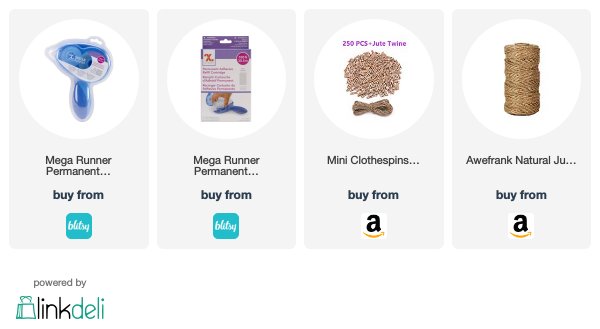 Add smiles and outlines with a black marker. Hang your paper crafted adorable gourd garland using twine and mini clothespins.
If you love this, you will also probably love my turkey drummy garland that I made for this season in 2018.  It is super adorable too.  Whether an adorable gourd garland, turkey drummies or even pumpkins…a paper crafted decoration is a winner.
Cheers to All Things Autumn,
Laura