Christmas is coming.  It is coming fast.  I am excited to be collaborating with six different amazing artists to share their homemade gifts that I love.  I personally have, and use, all of these in my life and gathered them together in this blog post to share them with you.
(Updated here to add a giveaway)
I think that supporting artists (especially female) when shopping for gifts and holiday goodies matters.  I hope you love these items as much as I do!
Let's start with ME!  I have darling personalized stationery in my online store.  I love my new watercolor designs that I created this year.
I am giving away three sets of personalized note cards on Instagram TODAY!!!!
You can follow me on ALL of my social platforms…
Alexandra from the Hedgehog Hollow has a monthly subscription box that arrives filled with awesome products for paper crafting, card making and general creating.  She chooses different illustrators for each month and I am the super lucky artist for this month's box.  It includes two sets of my stamps featuring the 'Me and My Peeps' characters, scrapbook card stock papers that I designed and LOTS of other great items.  You can order it HERE for you, for your friends and for everyone you know that loves to craft.
We are giving away a November box with with MY stamps AND papers on November 15th!
Follow Alexandra on Social Media!
Amy from Amy Latta Creations is a talented hand lettering artist.  She is also a very good friend.  Amy exudes love, creativity and kindness.  Her newest book is hand Lettering for Faith and it is PERFECT for anyone who you have on your list who likes to worship through creativity.  She has three other awesome books too.  The Hand Lettering for Kids is amazing for those kiddos who are looking to access creative ways to express themselves.
This is the book being given away on December 11th on Instagram!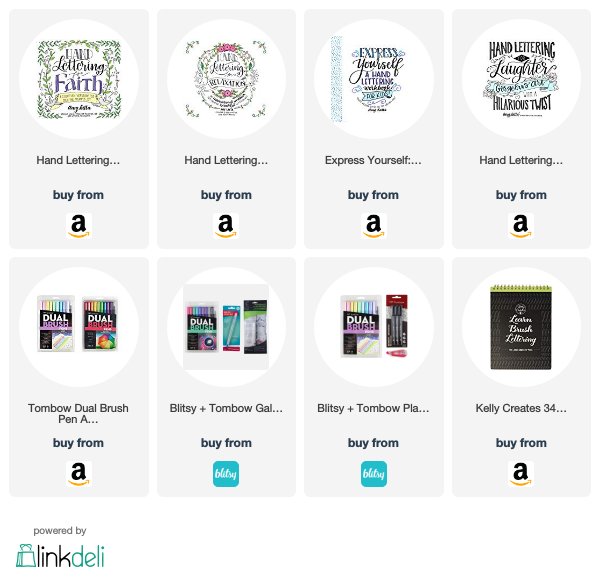 Jade from JaderBomb makes the most fabulous BoHo earrings imaginable.  She is a force of empowerment and self expression,  I have known her for years and keep the little packet of glitter I got from her when we first met in a special pocket in my suitcase.  It is a reminder of my greatness when I am on the road and feeling a bit insecure.  Of course when I put on the earrings, BAM.  It is like a confidence builder.  They gather all the compliments everywhere I go.  This is me rocking my red ones.
These are the earrings being given away on Instagram on November 15th!
Follow and Shop with Jaderbomb!
Jackie from the The Cookie Corner Arizona bakes and decorates cookies that are OUT OF THIS WORLD.  These are perfect for Homemade Gifts! She made me cookies with MY ART on them a few years ago and I completely fell in love.  They taste amazing.  They are beautiful.  They are the best.  Jackie spreads happy all over Instagram with her darling designs that are seasonal and also everyday creations celebrating occasions.  These are the cookies she made for me!
These are the cookies that are being given away on Instagram on December 6th!
Follow Jackie on Instagram….
Tiffany from the Old Ragdoll Cupboard makes the most beautiful handmade dolls, gnomes and snowmen.  I ordered an autumn doll and she is perfect.  I totally crush on her gnomes and snowmen too.  This gnome has my heart.  I cannot wait to give it away with her on Instagram.  Tiffany shares so much creative inspiration on her Instagram feed.  I love following her and being cheered up daily with her posts.
This is the gnome being given away on Instagram on November 22nd.
Follow and Shop with Tiffany and Old Ragdoll Cupboard.
Recently I got a bag for me and my friend Alexandra from Crochet by Colleen.  We took them to our day at the spa and received endless compliments.  She crochets and creates the most amazing things!  I love how customized her pieces can be.  Look at us!
Yay Yay and Triple Yay for Homemade Gifts for the Holidays!
Love,
Laura