Every year I select a new word to use as a guide in helping me become a better human.  Selecting the word can be challenging unless you have some support.  Here is how I go about selecting my word AND then some of the things I do to get it going.  I created a felt garland for 2020 using my favorite glue, Fabri-tac by Beacon Adhesives.  They sponsored the crafty part of this post!
Here are the steps to selecting a word of the year!
One.  Think about the kind of human you most want to be when the year comes to a close.  Brainstorm and write down all of the words that come to mind when you think about yourself as that human.  The words don't need to be focused on money or success.  They can be feelings, thought and ideas at this stage.
Two.  Circle the words that jump off the page and rewrite them on a new piece of paper.  Look up synonyms and add them to the mix.  Cut the words out individually and hold them each one at a time.  One of the words might just become obvious.  If it doesn't, sort the words into two piles.  One pile will be ones that feel strong and the others should feel like just maybes.
Three.  Keep narrowing the words down until you have just one.  This word is not like a resolution, rather a guide.  It might feel weird at first and a little quirky.  That is normal.  If it were super comfortable, it wouldn't be a trait you want to grow, right?  Get your word in front of yourself.  For example, add it to to a decorative garland!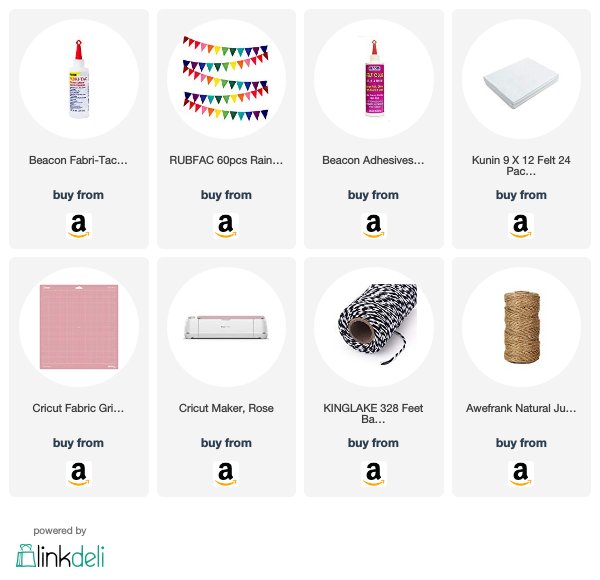 Let's make the garland!
Start by cutting out TWO pieces of Kunin Felt (4×5 inches) for each letter of your One Word. Glue each two together across the tops only.
Using your Cricut machine (or freehand if you'd like), cut the letter to spell out your word so that they will fit on the felt pieces.
Glue the letters to the felt pieces.
Hang the pieces like tents over tied twine or ribbon to turn it into a garland!  This works to create garlands for all of the possible reasons from holidays to celebrations!
Beacon makes AWESOME glues for all the crafty projects you could ever dream up.  I love them and share things using them often so be sure to check back on the blog super soon!

Cheers,
Laura