I am getting all geared up for Valentines, Galentines and all things LOVE!  I whipped up this adorable stitchable felt Valentine using specially designs material made by Coats and Clark.  It is so fun because it brings back childhood memories of cross stitching with my mom and listening to albums on the record player.  This stitchable felt Valentine is awesome because it is perfect for a beginning crafter.  It is also great because it can be made in just about any size to hold a gift card, special treat or candies.  This post is sponsored by Coats and Clark but the ideas and opinions are my own.
To make the stitchable felt Valentine envelope, you will need the following supplies and materials.
Stitchable Felt (White, Red, Pink)
Embroidery Floss (Coats and Clark) Red and Black
Needle
Scissors
Cricut Maker and Fabric Mat (Or Envelope Pattern)
Treat to Go Inside
Start by finding an envelope pattern in the Cricut Design Space.  It can be basic or decorative.  Cut it out on a Cricut Maker using the setting for acrylic felt.  Make it the size that will work for your special treat that is going inside.
Fold the sides in first, then the bottom piece up.  This will create the "pocket" part of your envelope.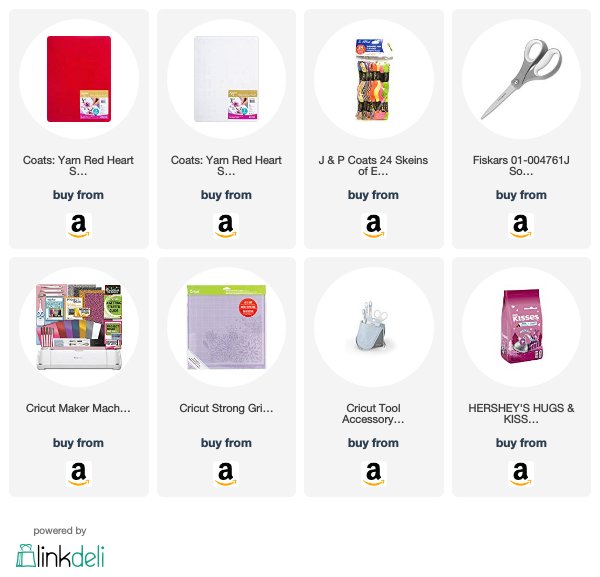 Cross stitch the sides to the bottom flap, along the top edges.  Do as many stitches as you like.
Cut a red heart on the Cricut Maker.  There are hearts right in SHAPES on the Design Space.  Stitch the red heart to the FRONT of the top flap of the envelope including stitches all around.
Cut a pink heart to go inside and cross stitch a message on it.  This heart can be any size, as long as it will fit into the envelope.
If you are adding a bag of candy into the envelope, it is possible to stitch the pink heart to the bow, making it into a tag.
Ta Da!  It is so simple and so adorable.  It would make a great favor for a party!  If you want the envelope to "close", add a little red stitched in bow through the heart.
Coats and Clark makes the best embroidery floss.  I love it because it comes in a HUGE variety of colors.  It is easy to work with because it doesn't tangle easily and the strands separate.  If you are looking for other fun ideas for Valentine's Day, check out this garland.  The pattern would work great with stitchable felt too!
Cheers to LOVE, handmade and Valentines!
Laura