This is the best way to organize fabric and it looks great too.
Being organized helps me every single day. It helps me in my personal life and my creative artsy life too. I am super excited to share with you the way that I have learned to organize my fabric after years of struggling with it being a hot mess.
Material Needed to Organize Fabric
Foam Core
Method to Cut Foam Core (Blade and Mat)
Scissors
Pin
Steps to Organize Fabric
Start by collecting and straightening out fabric.
Cut a standard piece of foam core board into eight equal pieces. They will each measure approximately 7 x 10 inches depending on the size of the foam core.
To fold your fabric up, fold your yardage selvedge to selvedge and then fold it once more in half lengthwise. Your fabric is essentially folded lengthwise into quarters. Then, just take your foam board and place it at one end…
Wrap the fabric around the board until you get to the end then fold a corner down and pin it to hold it in place.
So, this is the area of my studio where I store most of my awesome fabrics. I have a tall white bookcase filled with all of the colors and my favorite patterns. It is so much better than having the fabric in tubs and bins. I find I am far more successful with my creativity when I can see the fabrics out in the open. To be honest, I really just love to look at them sometimes. The colors and patterns inspire me, just like a shelf of books!
I cannot think of a better wat to make fabric organized and a beautiful part of studio decor.
Team Creative Crafts Collaboration of Ideas for Organizing Tips and Tricks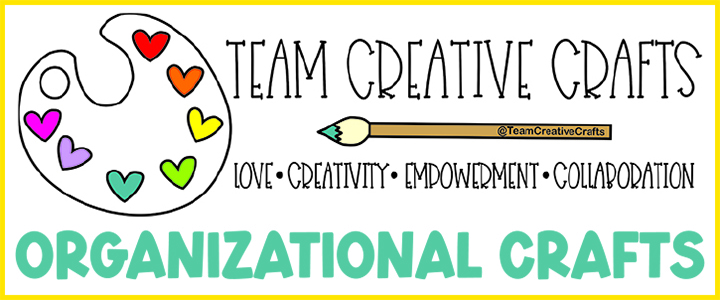 I love collaborating with this awesome team to bring you TONS of great ideas! Check these all out and you are sure to be super inspired to get organized.
Easy Fabric Storage Ideas with Dollar Tree Supplies by Laura of Me and My INKlings
Shimmering Hair Tie Storage Hanger created by Lindsay of Artsy-Fartsy Mama
Organize your Refrigerator with easy to read labels from Laura of Laura's Crafty Life
Create colorful DIY Felt Trays with a tutorial from Smitha at Smiling Colors
Upcycled Chapstick Organization is easy and super cute by Shani of Sunshine and Munchkins
A brilliant storage solution with a DIY Blanket Ladder from Justine of Little Dove
Stylish Crocheted Storage Baskets with Free Patterns by Erica of 5 Little Monsters
DIY Pegboard Garage Storage for a Shared Workspace from Kelsey at Poofy Cheeks
Giveaway
Now, enter to win this amazing craft prize from this month's Team Creative Crafts partner, Xyron. My Creative Station LITE is one of my favorite tools in my studio
. I used it to make these awesome labels when I organized my pantry!
Cheers to Organization!
Laura