Create a crafty masterpiece in fifteen minutes or less…awesome!  It's called CRAFT LIGHTNING!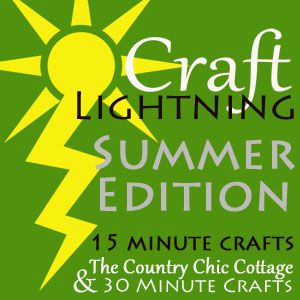 This bright, colorful and fun giant flower magnet is a great way to use scraps of paper (or fabric) while making something fun and useful!
You will need paper scraps, scissors, Mod Podge, thin cardboard (can use a cereal box) a brush and hot glue.  For embellishing, you can use buttons, gems or little fun word/saying cutouts and stickers.
Cut a circle out of the thin cardboard and teardrop shaped petals from your papers.  Cut circles for the flower centers.  If you use fabric, you will need Fabric Mod Podge.
Use Mod Podge to attach the petals to the cardboard.  Add an extra layer over the entire front surface to make it stiff and shiny.  If you are adding words/saying, do it with the Mod Podge during this step.
When the flower is dry, add embellishments to your liking.  To complete, turn your flower over and add a magnet.  I used Aleene's Tacky Dots.
Your refrigerator will look like a bright and colorful garden of inspiration!
Happy Craft Lightening,
Laura