DIY Confetti Birthday Party Hats for Fun and Kids
Everyone loves a good celebration. These are super fun to make and would work for any age kiddo – even adults. I think every party should have as much confetti as possible – and as many sprinkles too! I am excited to share the free pattern and the directions so you can whip these up for your next hooplah! My thought is the more DIY that goes into everything, the better. Let's make some DIY Confetti Birthday Party Hats! This is great for fun and kids!
Materials and Supplied Needed
Let me warn you, confetti can be messy. I would recommend doing this on a surface and in an area suitable for the job. This is what you will need.
Card Stock
Scissors
Decou-Page or Glue
Paint Brush
Styrofoam Ball – Any Size
Hot Glue
Scissors
DIRECTIONS FOR THIS FUN KID CRAFT
STEP ONE
Start by downloading the free hat pattern and cutting it out.
Step Two
Cut the pattern out and trace it onto the card stock you plan to use. I LOVE the look of cardboard and kraft paper so that is what I chose.
Step Three
Paint a thick layer of Decou-Page along the edge of the hat.
Step Four
Pour confetti over the wet glue and let it dry. Isn't this a joy. Fun and kids just go together and this is perfect for both.
Step Five
Paint your styrofoam balls with the glue and cover them in confetti then let them dry.
This is easiest if you poke a pencil in it and use that as a handle. PLUS, that hole will be used to put the ball on the hat so it is a WIN-WIN.
Step Six
Once everything is dry, Fold the edge of the hat (as shown on the pattern) and put a strip of hot glue on it then adhere it to the other side creating the HAT!
More Party Hat Fun
A while back I shared this FREE SVG project with a party hats theme. It is super cute and can be used to make garlands, cards or even t-shirts and gift bags. Go check it out and get ready to unbox that Cricut machine you have been waiting to use.
These party hat designs were originally created for New Year's Eve but would be fabulous for any celebrations Get all the deets!
LOADS Of KID PARTY CRAFT IDEAS
I teamed up with Creative Crafts and loads of our friends to bring you fabulous ideas galore. Here you go!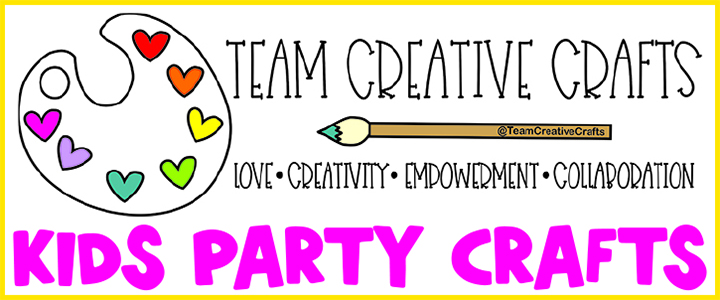 Check out all of this awesomeness!!!
Laura from Me and My INKlings has created the CUTEST Confetti Birthday Party Hats with just three supplies
Smitha from Smiling Colors is sharing YUMMY Kawaii Inspired Sprinkle Donut Notebooks, great for goodie bags
Laura from Laura's Crafty Life has created a bright and colorful Birthday Party Balloon Wreath
Shani from Sunshine and Munchkins is sharing a Free Printable Encanto Birthday Party Fortune Teller
Erica from 5 Little Monsters has created Free Printable Party Favor Thank You Tags, perfect for goodie bags
Kelsey from Poofy Cheeks is sharing a Free SVG Cut File to make adorable Paper Pinwheel Decorations
Justin from Little Dove has created a FABULOUS DIY Rainbow Mini Pinata Craft with a step-by-step tutorial!
How To Manage Crafting at a Kid Birthday Party
There are several things you can do to create a successful craft event with a group of kids! Here are some of my top tips from being a mom and a teacher!
Choose Appropriate Crafts
Think about the age of the kids and the group attending. Make sure that your project is one that is going to be liked by the kids based on their interests, likes and dislikes. Choose a craft that can be done by the kids on their own without supervision. If you have special needs kids or kids of different ages – try teaming them up with one being a helper.
Test the Craft First
Make the craft from start to finish and have a completed sample to show. Some craft projects are harder than they might look in a picture. If you find the idea on a blog (like this one) or when searching online – make sure you are using a reliable source with good directions. This is best for having the most fun and kids to be successful.
Have ALL Necessary Supplies
Create a list and stock up BEFORE the day of the celebration. If necessary, have a bag for each kid with the supplies they need to complete the project. Some supplies might be shared too like scissors or glue.
Pick An Appropriate Location
Make sure you have plenty of space for crafting. The time of year and the weather might play a factor in your decision for location too. For example, tie-dyeing should probably be done outdoors!
Too busy to make this right away?! Pin it for later! Pin this project to your favorite craft board on Pinterest and it'll be waiting for you when you're ready.
This post contains affiliate links.
Giveaway
Enter to win this fabulous giveaway – 7 skeins of BRIGHT Red Heart Yarn and a POM-POM Maker too.
Happy Celebrating with all the crafts and DIY Birthday Party Hats Imaginable for Fun and Kids!
Laura