Whip up a batch of bowtruckle bread just like the amazing Jacob Kowalski at his bakery.
The magical wizarding world is amazing and fun. I love absolutely everything about it. The magic in the Fantastic Beasts movies is as fabulous and awe inspiring as the Harry Potter films. There is something super cool about going back in time and getting foundation for a story line that is already deeply loved. Jacob Kowalski and his bakery have my heart. I created this adorable little baking project to make a bread bowtruckle using a free Fantastic Beasts printable pattern.
Ingredients and Supplies
Puff Pastry Sheets
Egg
Cooking Brush
Sharp Knife
Parchment Paper
Directions
This is a super easy, 2 ingredient project. The trick is in taking your time to cut.
Step One
Open your puff pastry sheet and roll out onto parchment paper. Use the pattern to cut around in creating a bowtruckle from the dough.
Step Two
Put your bowtruckles on a large cookie sheet, on top of the parchment paper. Use the extra dough to create whatever you want. The kids will LOVE this part.
Beat one egg and brush it over the dough to create a golden crisp layer.
Step Three
Bake for 15 minutes or until golden brown. Let cool before handling. While it is baking, make decorative bakery bags for your goodies.
How To Make the Bakery Bags
The same Fantastic Beasts printable that you downloaded to get the pattern has the tags for the bags. Cut them out and adhere them to a bag. If desired, use scissors to do zig zags across the top. I find that wine bags from the grocery store work great.
Put the cooled treats in the bags for some magical party fun! There is even a tag for the backs of the bags. If you are doing this with a group of kids at a party, this is a great way for them to get their name on their baked goody.
MORE Fantastic Beasts Printable Fun
There are five pages in the printable collection including a word search puzzle AND a super adorable coloring page.
Seven Great Reasons to Bake
If you aren't sure about your baking skills or reasons to try this recipe, here you go!
For me baking is a great way to express myself. I believe that it is a form of creativity. I am excited to share my TOP seven reasons to bake with you. Know that baking doesn't need to be "from scratch" to count. It always counts even when it is only halfway homemade.
Baking is like meditation. I find going through the steps of making a recipe to very calming and relaxing.
Also, Baking stirs the senses, literally and figuratively.
When I bake cookies, cakes, pies and treats; I find myself feeling creative and happy in my heart.
Sometimes my kids bake with me and it creates a great time to bond and connect.
Homemade treats make great gifts.
Using recipes passed down from generations creates a magical connection to family.
Honestly, baking boosts my morale. It is just plain good for the spirit.
More Harry Potter Creative Ideas with Team Creative Crafts
Teaming up to share LOADS of ideas is my favorite.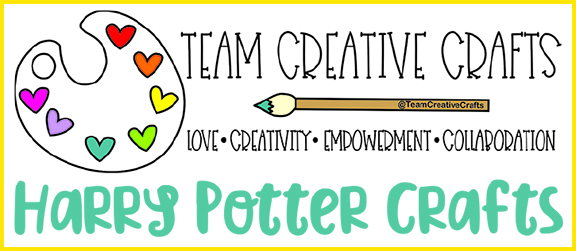 Check out all of these awesome ideas!
Catch a few mischievous Cornish Pixies in Jars to help Professor Glideroy Lockhart. Make sure to label them with the Free Printable Tags designed by Beth of Creatively Beth. Remember to not let Pixies loose in a classroom, they are devilishly tricky blighters.
Lindsay of Artsy Fartsy Mama is super talented with polymer clay. She sculpted these adorably wicked Harry Potter Cornish Pixies and will show you how with her step-by-step tutorial. Love those iridescent wings!
Give the Master of Death symbol a feminine touch with a Floral Deathly Hallows free cut file, created by Liz of Liz on Call. The Cloak of Invisibility, Resurrection Stone, and Elder Wand combine as a symbol to true believers who quest to find the Hallows.
Always creating halfway homemade goodies, Laura from Me and My INKlings is sharing a Bowtruckle Bread with Free Bakery Printable. Fantastic Beasts' Jacob Kowalski would be proud to serve these delicious treats at his bakery!
Blanca from Creativities Galore has created Harry Potter Favor Bags that are perfect for any wizard inspired party. Fill with magical goodies and gift to that special boy or girl.
Head over to The Girl Creative to download Diana's free printable Harry Potter Word Search. A fun activity to complete after reading the books or watching the movies. A fun (and sneaky) way to work on vocabulary with the kiddos.
Candice of She's Crafty Crafty is sharing a free cut file to create your very own Harry Potter Fund Jar. Savings is an important lesson for the kiddos. What will your fund be for – books, movies, or a trip?
Cheers to ALL things Magical!
Laura