Craft up a magical Room of Requirement sign for your favorite door in the house.
The Room of Requirement is a secret room in Hogwarts School of Witchcraft and Wizardry It is also known as the Come and Go Room. It only appears when a witch or wizard is in great need of it. This sign is perfect to make for either home or party decor.
When Harry asked Dobby about this magical room and how many people know about it, Dobby responded with, "Very few, sir. Mostly people stumbles across it when they needs it, sir, but often they never finds it again, for they do not know that it is always there waiting to be called into service, sir."
Materials and Supplies Needed
To make this sign, you will need your electronic cutter and a few other supplies. I have them all listed for you so you can prepare ahead of time to create this project successfully.
Electronic Cutter – I am using my Cricut Maker.
Free SVG File (Below)
Cutting Mat
White Vinyl
Transfer Tape
Weeding Tool
Acrylic Paint
Paintbrush
Water
Ribbon
Hot Glue To Attach Ribbon
Directions
This project is simple enough that is works great for those who are beginners with electronic cutting. It could be done in any color but I am choosing the weathered look of a black paint wash with ribbons in the colors of my Hufflepuff house. The colors of the ribbons are a great way to personalize the sign.
Step One
Paint the canvas. This can be done in any color. For your sign to look like this one, paint the canvas black and then while it is still wet brush over with a 50% white paint/50% water wash. Let it dry completely.
Step Two
Start by downloading the free SVG file (BELOW) and cutting using it to cut out white vinyl letters. The size will depend on the size of your canvas. Weed the letters.
Next cover the letters with the transfer tape. Run over them with the scraper tool to make sure they all adhere properly.
Step Three
Peel the transfer paper back. All of the letters should be adhered to it. Carefully place the design on your painted canvas and again, use the scraper tool to get the letters to move off of the transfer tape and stick to the canvas.
Step Four
Paint over the entire surface with the 50% white paint/50% water wash – adding a tiny bit of black to get the weathered look.
Step Five
Add a ribbon hanger. This can be done with any ribbon in any color. These colors represent the Hufflepuff House – which is indeed – my house!
Room of Requirement Facts
The room is unplottable. It doesn't ever appear on Marauders Map!
Harry and Ginny's first kiss was in the room.
There are loads of hidden things in the room.
Dumbledore's Army used the room to train.
The room is located on the seventh floor of Hogwarts.
More Harry Potter Fun Crafty Ideas
I am teaming up with my Team Creative Crafts gals to bring you tons of great Harry Potter ideas.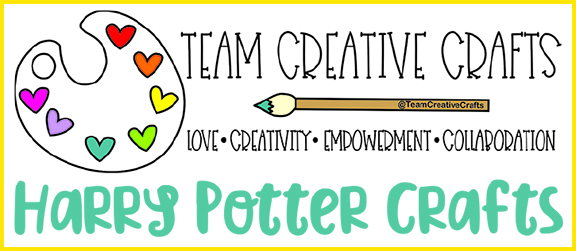 Check them out!
Laura of Me and My INKlings is sharing a Room of Requirement Sign. Located in Hogwarts Castle, it's a room that can only be discovered by someone who is in need. Free SVG File included in tutorial.
Let Harry, Ron, and Hermione hold your place with a Magnetic Set of Bookmarks created by Laura of Laura's Crafty Life. Click through to discover how to make them.
Show your Hogwarts House Colors with a colorful set of Harry Potter DIY Scrunchies. The full step-by-step tutorial can be found over at Smitha's site, Smiling Colors.
Shani of Sunshine and Munchkins has created a Free Printable Patronus Fortune Teller. Let this game help you discover what your charm is based upon your happiest memories.
Download, print, and color Harry Potter Movie Night Printables featuring Hogsmeade Tickets and Gringott's Coins that the kiddos can earn, then redeem. Designed by the clever Justine of Little Dove.
Erica from 5 Little Monsters always keeps us in stitches (LOL!) with her fabulous creations. Free this adorable Crocheted House Elf Dobby by gifting him a piece of clothing. Click through for the complete pattern.
Always remember that the Wand Chooses the Wizard with this cute Harry Potter Mug created by Chelly of We Can Make That. Get the Free SVG file on her website.
No Harry Potter birthday party is complete without a DIY Flying Broom photo booth prop. You will never guess what Debra from Debra Quartermain Designs has made this one out of!
Beth of Creatively Beth is always on the lookout for cute Dollar Tree crafts, including these magical Harry Potter Flying Keys. Easy to create with the free printable wing pattern sheet.
These yummy Chocolate Frog Earrings look good enough to eat, but don't because they are made out of resin. Lindsay from Artsy Fartsy Mama has the complete tutorial over on her blog.
Sharing is Caring! Too busy to make this right away?! Pin it for later! Pin this project to your favorite craft board on Pinterest and it'll be waiting for you when you're ready.
I would really love to hear what you think about this stencil making idea! If you try it out, I would sure like to see it! Share on Instagram, Facebook, or leave a comment/photo on the project pin on Pinterest! #LauraKellyDesigns
This post contains affiliate links. If you make a purchase, it is no extra cost to you but supports me and my small business.