Snowman Soup Valentine Poem Free Printable
Cheers to spreading kindness for Valentine's Day (and all the days)! Every one loves a good snowman soup recipe with a free snowman soup printable label. It is super for teachers, neighbors, co-workers, classmates, friends and delivery drivers alike. Furthermore, the gift itself can be big or small. Make it with a packet of hot cocoa or a huge batch of a homemade mix. I actually have a great recipe for homemade hot cocoa mix here on the blog. This Snowman Soup Poem Valentine Free Printable is the perfect little addition to some hot cocoa and goodies to create a darling and sweet Valentine's Day gift.
Free Snowman Soup Valentine Printable Papercraft DIY
The free printable can be used to make simple or elaborate tags. It totally depends on how much time you want to put into the project. If you are making LOTS of them to give as gifts, the easier version might be a better idea. If you are making one super special gift, go all out. Who knows, maybe the recipient will save the tag for years to come.
Materials Needed:
Pink or Red Card Stock, White Card Stock and Color Printer
Scissors
Hole Puncher
Yarn
Fabric/Ribbon Scraps
Directions:
Download the free printable and print on white card stock.
Firstly, cut poem tag out of printable for the snowman soup Valentine.
Secondly, apply 3D Foam Squares to back of cut out.
Thirdly, Stick cut out tag to card stock.
Fourthly, Cut around the outside of the card stock leaving about a 1/2 inch showing to frame the tag. Leave one end longer to create space to attach to gift.
Lastly, punch a hole in the tag end and tie it to the gift with yarn and ribbon scraps. This Snowman Soup Poem Free Printable is really starting to look adorable.
Attach gift tag to hot cocoa gift. This can be as simple or as elaborate as you would like. There are so many fun hot cocoa mixes, sprinkles and marshmallows out there to choose from.
This could be as simple as in a clear bag or as complex as a large bucket filled with goodies. Other fun items to add are mugs, decorative napkins, straws and stirrers.
Hot Cocoa Mix Recipe
Nothing beats homemade. This recipe for a homemade hot cocoa mix is here on the blog for you.
Valentine Crafts for Adults
Team Creative Crafts is sharing tons of great ideas for Valentine's Day Crafts for Adults.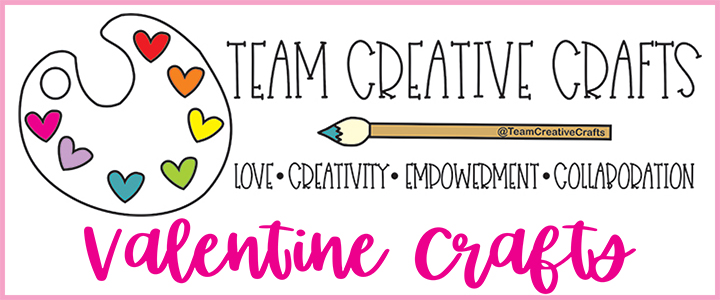 Here are some to get you going and prepped to diy and make things.
Laura from Me and My INKlings is sharing a Free Printable for Valentine's Day Snowman Soup along with the recipe
GIVEAWAY
Enter to win this super fun prize from all of us at Team Creative Crafts.
MORE FREE Printable Valentines
This collection is a favorite because it can be downloaded, printed and then made into a booklet of activities. If you print 4 to a page, you can then cut the pages and make a mini book. Super cute, I know. Some of these pages would be fun to print and give with the Snowman Soup Poem.
Here is another Valentine craft idea that goes right with the Snowman Soup Poem Valentine Free Printable. If making gifts is your thing, this adorable little craft creates a melted snowman in a jar. The printable is free here on the blog in the post with the directions to make the craft.
FREE Printable Candy Bar Wrappers!
Valentine crafts are so much fun because they focus on spreading love. Beth colored in her adorable designs and made Valentine candy bar wrappers for you guys. Aren't these so dang adorable and the fact that they are FREE to download brings me such joy!
Ways to Use Free Printables
You might have seen this list from me before but I think it is worth sharing over and over. Sometimes the people in the back need to hear things a few times, right? There are so many great ways to use free printables. Here are some of my favorites.
Print them and mail in an envelope with a stamp. Snail mail rocks.
Batch some up to make an activity book. This is great for a road trip!
Print and use at a place setting on the table to create a conversation starter.
Add them to goody bags. By the way, goody bags are not just for birthday parties.
Package them up with your favorite markers and crayons to give as a gift.
Drop a few off at the local coffee shop with fun pencils to spread some happy.
Cut them up to make cards, gift wrap and decorations.
BEST Tools For Working With Free Printables
These are my favorite tools and art supplies to use with free printables and why I love them too.
I have a whole printable library that you can go to and get TONS of fun things.
This Snowman Soup Valentine Poem Free Printable is so much fun to use for creating and making adorable gifts to give to the people that you love. If I were still teaching, I would be making little hot cocoa gifts for all of my co-workers for sure. Who would you make them for?
XO,
Laura