Sometimes the craziest ideas are the best!  It is true.  I think that this might be the funniest craft project to date and in many ways the best.  I do know people in my life who have everything they need but these! These are so funny and so much fun too.  I created underwear for my tie dyed man!  These would be super fun to make for a funny and practical Father's Day gift.  They are super easy because the tie dye process used is simple and works great.  Let's do it.  Let's whip up some tie dyed underwear!
I made them super quick with a Tulip one-step tie dye kit and a pack of cotton underwear.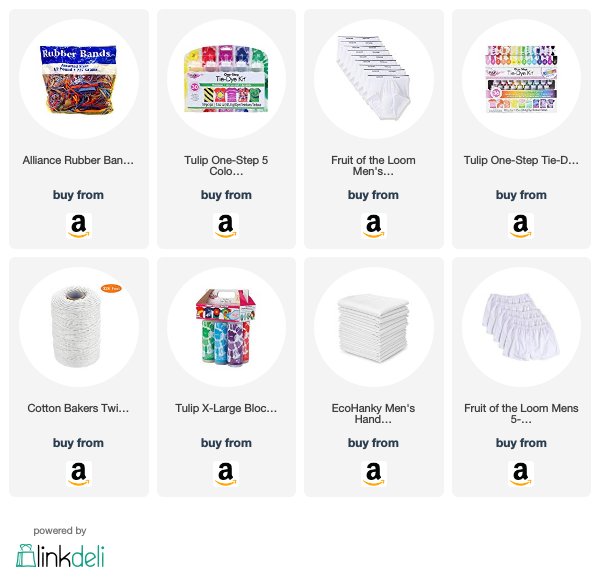 What will you need to make tie dyed underwear?
You will need two things…underwear and a dye kit.  For real guys!  You only need TWO things.  Well, water too I guess so maybe three actually.
How do you make them?
First step:  Get the underwear wet and rubber band them up in wacky ways.  Anything goes.  The tighter the banding, the less dye that will penetrate into that area.
Second step:  Prepare dyes by adding water to the already powder in bottles.  There are great direction in the kit that spell out exactly how much water to add.
Third step: Apply dye to underwear.  This can be done outdoors in the grass.  If you are working indoors, I recommend doing it in a plastic tub that can be washed outside when you are done.  The dye is DYE.  It will color most anything.
For the brightest results, let them sit for a while and soak up the color.  If you wash them right away, they will be lighter in color.  When you are ready, wash them in COLD water, but first–take the rubber bands off after you wash them then throw them in the dryer.  Yay!  Aren't the fun!!!
So funny!  So colorful.  A little daring.  Go for it!
Cheers,
Laura
This post contains affiliate links.
aberdeen escort agenciesmacahelkonaklama.com кредитка в дельта банке