Yay for crafts that are quick and fun!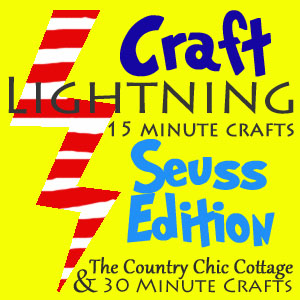 When I was little and to this day, Dr. Seuss has been inspiring me to create and use my imagination.  His stories are filled with crazy nonsense make-believe that stirs the mind and gets my thinker thinking.  I still have my original anthology of his stories, albeit in terrible condition.  The collection of four books is filled with memories.
One of my favorites is McElligot's Pool.  It is the story about a fisherman who has been told bv the farmer that he is wasting his time.  This is how it starts…
Of course the fisherman (aka Dr. Suess) imagines all kinds of fish in the pool.  I used my new fish die from Ellison/Sizzix which can buy HERE to cut out fish and create them into ones that would live happily in McElligot's pool.
Aleene's School Tacky Glue is the best when working with kids.  It is the perfect consistency and stickiness to attach all kinds of things together.  I added buttons, gems, ribbons and googley eyes to the fish using it.
This one is my fave.  I named him Chevron Fin Fish.
They all came out super cute!
Here are the top three ways I can think of to use them.
Dr. Suess Author Study Bulletin Board

Studying How We are Unique

Creating Gift Tags
I love the way this story ends.  What a great reminder to be patient.
Happy Celebrating Dr. Seuss, Celebrating Literature and Creating,
Laura
This post contains affiliate links.