Thanksgiving is coming up and I have been really wanting a DIY wall chalkboard to decorate my dining space.  I wanted it as a place to showcase messages, garlands and seasonal decoration.  I asked my son Dylan to help me make it and he jumped right in.  I am super excited to share how amazing it turned out.  He used some of my favorite products from DecoArt to turn the DIY wall chalkboard into an amazing addition to my home.  I am completely in love with his results.  This post is sponsored by DecoArt but the ideas are mine (and Dylan's too).  This is his FIRST project for this blog and I am posting it on a Monday because he plans to do more and share them on our MANCRAFT MONDAYS!  How exciting and fun is that???
To make a DIY wall chalkboard in your home, you will need the following supplies and materials.
DecoArt CHALKBOARD Paint
DecoArt Chalky Finish Paint
Paintbrushes
Chalk
4 x 6 foot piece of thin wood (1/4 inch plywood)
Wood to frame the outside (1 x 4's)
Trim to decorate the inside of the frame (door casing works great)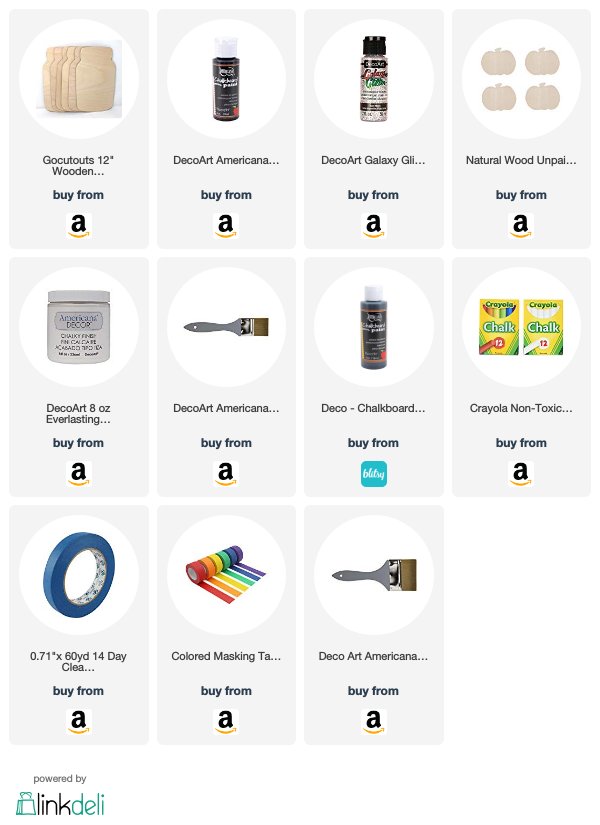 STEPS:
Cut your wood pieces to size, to frame the outside of the 4 x 6 chalkboard base.
Paint the 4 x 6 piece with CHALKBOARD paint and let it dry entirely.  You will need at least two 8 oz. containers if primed.  If not, you will need more.
Paint the trim wood with DecoArt Chalky Finish.  This DIY Wall Chalkboard is trimmed with 1 x 4's.
Use screws to attach the chalkboard piece to the wall.
Screw in the frame wood around the 4 x 6 piece.
Screw in the trim inside the wider wood frame pieces.
Fill in any gaps with caulk and let dry.
Touch up paint with DecoArt Chalky Finish.
Ta Da! Dylan rocked this project! I am so excited about using it to share messages with all who enter my home!
The chalkboard paint is great for smaller projects too, like the darling menu board.   Here are the directions to make it.
Paint the wooden surface with the Chalkboard Paint.  Add a combination of DecoArt Galaxy Glitter and Extreme Sheen to the top of the wooden mason jar cut-out to create the "lid".  Let it dry.  Use chalk to add your menu or messages…
The wooden pumpkins are painted with DecoArt Patio Paints in a variety of orange shades.  When the paint dried, I added fabric scraps with DecouPage.  This is a quick and easy way to create amazing holiday decorations.  They make a great garland.
I currently have it spooked up for Halloween!
Stay tuned for another amazing project for MANCRAFT Monday next week!
Cheers,
Laura