My Girl Scout troop has been busy busy busy creating items to sell at their first craft fair this weekend.  They have been learning about financial topics like expenses (materials and labor) and profit.  Mostly though, they have been learning to work together as a team to put together the event and create goals.  I am excited to share some of the awesome projects they have been completing using felt from Kunin Group. 
Before I share any more, I want to express my heartfelt thanks to the girls for working so hard, to their parents for all of their support and to Kunin Group for supplying our felt.  Being a member of the Kunin Felt Dream Team is such an honor.  I love to create and share ways to use this superior product.  I really think that creating with my Girl Scouts is my all time favorite.
The reindeer snack mats are darling.  They have made ten so far!
They cut out the pieces and used Fabri-tac to put them together.  I went around them with a quick stitch on the sewing machine.
If you want to make these darling mats, I scanned in our patterns and have them here for you as a PDF for FREE.
The star on the PDF is the one we used on the tops of these felt strip Christmas trees.  I think this one is totally darling.  We have a total of 16 trees ready to sell!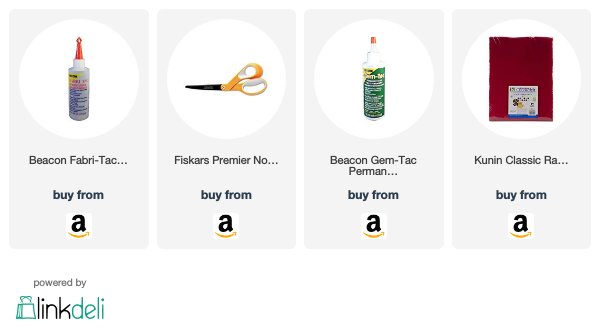 To create these garlands, they used my Ellison Superstar machine and a small tree and heart dies.  They are getting pretty good on the sewing machine for being in 6th grade!  We have 9 garlands!
These pillows are so darling and they worked so hard to make them.  They set a goal of 30 and so far we are at 13.  We are going to complete on Friday evening before our holiday sleepover.  They mixed up felt and fabric on these and they came out fabulous!
Okay, these pickles!  They hand sewed them all and stuffed them then attached the German legend of the pickle ornament.  There goal for these was 15 and they met it already.
Debra Quartermain taught me this stitch for going around the felt pillow and I taught it to the girls.  They felt quite fancy!
They are also making these Santa ornaments on Friday night with a goal of 16.  That means each girl will need to complete 2.  We are using my Santa Hat die with an Ellison Superstar machine to cut out the shape.
They have also made lots of other items with other crafty supplies.  I am totally crushing on their hand painted hankies and the fabric scrap gift tags!
Our craft sale is this weekend.  I will post next weekend and share our process and results.  Until, then…happy creating!
Laura
This post contains affiliate links.