Spring Decor DIY Garden Craft Projects and Ideas
Wreaths, signs, knick knacks and garlands are just a few of the awesome things people use to decorate their home for the seasons. The holidays that happen during the seasons usually get a front and center stage to the decor both indoors and outdoors whether on shelves or front doors. It is so fun to be inspired by so many fabulous ideas being shared all in one place, especially ideas that are DIY and crafty. These spring decor DIY ideas are all ones that can easily be made to add to your existing decor. If you are an outdoor decorator, you will probably love the DIY Garden Craft Projects best.
DIY Garden Craft Project Ideas
It is super fun to make things for all over the home, office and classroom areas. If you have a garden like me, they you might love decorating in it too. It is almost like another room in the house. Before you go spend money at the garden center, take a look at all of these awesome ideas of things you can make – all in one place. Choose a couple and get started making your own DIY Garden Projects right away.
Here are some of my favorite garden craft ideas from around this blog. Hop around and check them out. These are some gorgeous Spring Decor DIY Ideas. There is something for everyone here from beginning makers and kids to seasoned artist and designers. I bet you can find something that inspires you!
Team Creative Crafts Spring Decor DIY Ideas
I teamed up with a group of my favorite bloggers to share with you a WHOLE bunch of great ideas.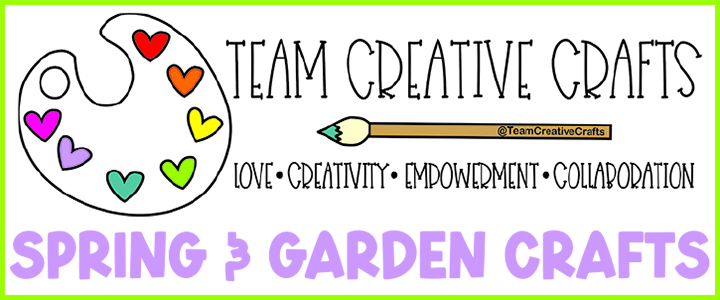 I am super excited to inspire you to get started on your decorating this season. Be sure to follow some of these amazing creative designers because they are so dang talented.
In addition to all of the already shared ideas that could be DIY Garden Craft Projects, here are even more fabulous ones.
More
These are all great for kids to do at home, at a party or in school with the class.
Reasons to Decorate Your Home and Garden
There are so many great reasons to decorate your home. The decor determines the mood and the feel for your family and all who enter. It is a form of expression. A home that is well decorated can lower anxiety and create a sense of ease and peace. Different rooms can have different vibes determined solely by the decor — from the colors to the furniture to the accent decor. Here are my top five reasons to decorate your home and invest in the process.
A well decorated room creates a space for healthy living including the atmosphere as well as the functionality.
Decorated spaces can promote well being, creativity, better rest, etc.
It is fun.
Home decor can change with the seasons, the holidays, and the times. It is a way to update style.
There are no rules to home decorating. Your home is unique to you and your family.
Cheers to DIY Garden Craft Projects and Springtime Too!
Laura