Best Tie Dye Ideas for Fabric and Other Materials
There are so many ways to add color to all the things using dyeing techniques with fabric, paper and even edible goodies. Creating masterpieces of art and customized fashion with the awesome tie dye kits that are easily available is so much fun. Did you know there are lots of other ways to make things colorful and creatively designed with tie dye too? I am super excited to share these best Tie Dye Ideas with you here in one place. I feel certain you will be inspired to get started on one of them pronto.
The great thing about these projects is that they always come out a little different than we think that they will. Some people call this a reveal art – as in the final masterpiece reveals itself at the end.
MORE Projects
I love teaming up with friends to share so much greatness with y'all. This is the Tie Dye Ideas edition of Team Creative Crafts.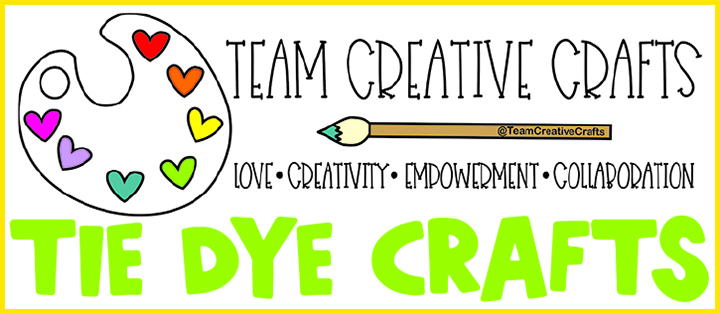 There are just so many fun things you can make!
Even MORE Tie Dye Ideas
If you haven't found the perfect project yet, keep going!
Ten Reasons to Craft
I am going to say this again.  Crafting is just a great idea.  It is proven that crafting can be really good for mental and emotional health.  Studies show that making and crafting can lower anxiety.  Another benefit to crafting is that it creates connection.  When we make things and give them to others, we spread kindness and love.  Here are my top ten reasons to craft with kids, and I mean kids of all ages.
Mental Health Benefits – Crafting puts me in a good mood.
Self Expression – Crafting allows me to express myself.
Education and Growth – I learn new skills by making things.
Connection – Crafting connects me others through workshops, classes and gifting.
Decor – Through making and crafting, I can totally customize every aspect of my decor.
Gift Giving – Gifts is totally my love language.  I love to make handmade gifts. Tie Dye ideas are great for gifts.
Offline Time – Crafting keeps me off of my phone and social media. We all know this can be beneficial.
Income – Because I craft and sell items that I make, I have an additional income source.
Fun – I like to have fun and to me, making things is fun.
Socializing – Attending events where crafting is a part gets me out and around others with like minds.
Too busy to make this right away?! Pin it for later!  Pin this project to your favorite craft board on Pinterest and it'll be waiting for you when you're ready.
This post contains affiliate links.
Cheers to All of the Dyeing Projects Galore!
Laura