Kids Birthday Party Ideas for All Ages
Planning celebrations for kids is so much fun – mostly because they get so excited about every single little thing. From decorations to games and crafts; parties and a blast to plan. There are so many ways to combine crafting with themes to get the exact perfect combination of decor, snacks and activities. I am excited to share some of the ones I think work with lots of themes and a few that are more specific too. Here are the best Kids Birthday Party Ideas all in one place.
Themed Kids Party Ideas for Birthday Parties
I have created so many themed birthday parties over the years – for my kids and for friends too. Some of my favorites have made it here on the blog. Check them out by clicking on the coordinating link below the graphic.
Goody Bag Ideas
My favorite part of a celebration is the goody bag. LIKE FOR REAL. Ask anyone who know me and they will tell you! Here are some of my favorite ones.
Or course you could use any of the crafts or recipes on the blog to create parties galore.
I teamed up with Creative Crafts and loads of our friends to bring you fabulous ideas galore. Here you go!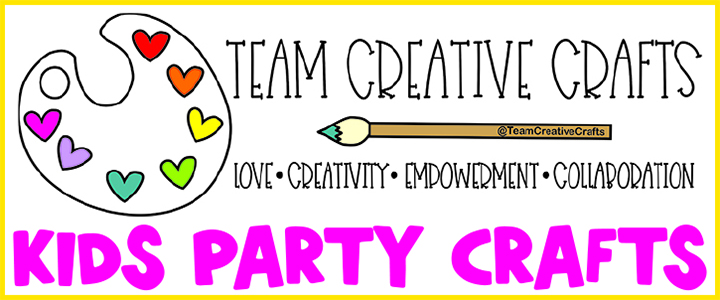 MORE Birthday Celebration Ideas
Laura from Me and My INKlings has created the CUTEST Confetti Birthday Party Hats with just three supplies
Smitha from Smiling Colors is sharing YUMMY Kawaii Inspired Sprinkle Donut Notebooks, great for goodie bags
Laura from Laura's Crafty Life has created a bright and colorful Birthday Party Balloon Wreath
Shani from Sunshine and Munchkins is sharing a Free Printable Encanto Birthday Party Fortune Teller
Erica from 5 Little Monsters has created Free Printable Party Favor Thank You Tags, perfect for goodie bags
Kelsey from Poofy Cheeks is sharing a Free SVG Cut File to make adorable Paper Pinwheel Decorations
Justin from Little Dove has created a FABULOUS DIY Rainbow Mini Pinata Craft with a step-by-step tutorial!
Beth with Creatively Beth is sharing some colorful DIY Tie Dye Ideas for Birthday Party FUN
Lindsay from Artsy Fartsy Mama has created a Party Animal Coloring Page Tote Bag, two crafts in one
Liz from Liz on Call is sharing how to make Candy-Filled Cupcake Birthday Party Favors – BRILLIANT!
Kimberly from Crafting Cheerfully has created a whimsical Paper Cupcake Banner that is totally customizable
Ginger from Ginger snap Crafts is sharing a Personalized Beach Ball Party Favor, for all those pool parties
Elise from Polka Dotted Blue Jay has created Easy Birthday Party Inspired Cupcake Decorations
Heather from Homemade Heather is sharing Cupcake Decorated Sugar Cookies and a Free Printable Tag
Which of these awesome Kids Birthday Party Ideas are you most excited to try? Comment and let me know.
How To Manage Crafting at a Kid Birthday Party
There are several things you can do to create a successful craft event with a group of kids! Here are some of my top tips from being a mom and a teacher!
Choose Appropriate Crafts
Think about the age of the kids and the group attending. Make sure that your project is one that is going to be liked by the kids based on their interests, likes and dislikes. Choose a craft that can be done by the kids on their own without supervision. If you have special needs kids or kids of different ages – try teaming them up with one being a helper.
Test the Craft First
Make the craft from start to finish and have a completed sample to show. Some craft projects are harder than they might look in a picture. If you find the idea on a blog (like this one) or when searching online – make sure you are using a reliable source with good directions.
Have ALL Necessary Supplies
Create a list and stock up BEFORE the day of the celebration. If necessary, have a bag for each kid with the supplies they need to complete the project. Some supplies might be shared too like scissors or glue.
Pick An Appropriate Location
Make sure you have plenty of space for crafting. The time of year and the weather might play a factor in your decision for location too. For example, tie-dyeing should probably be done outdoors!
Yay for Kids Birthday Party Ideas!
Laura